Adelaide Riverbank Segway Tour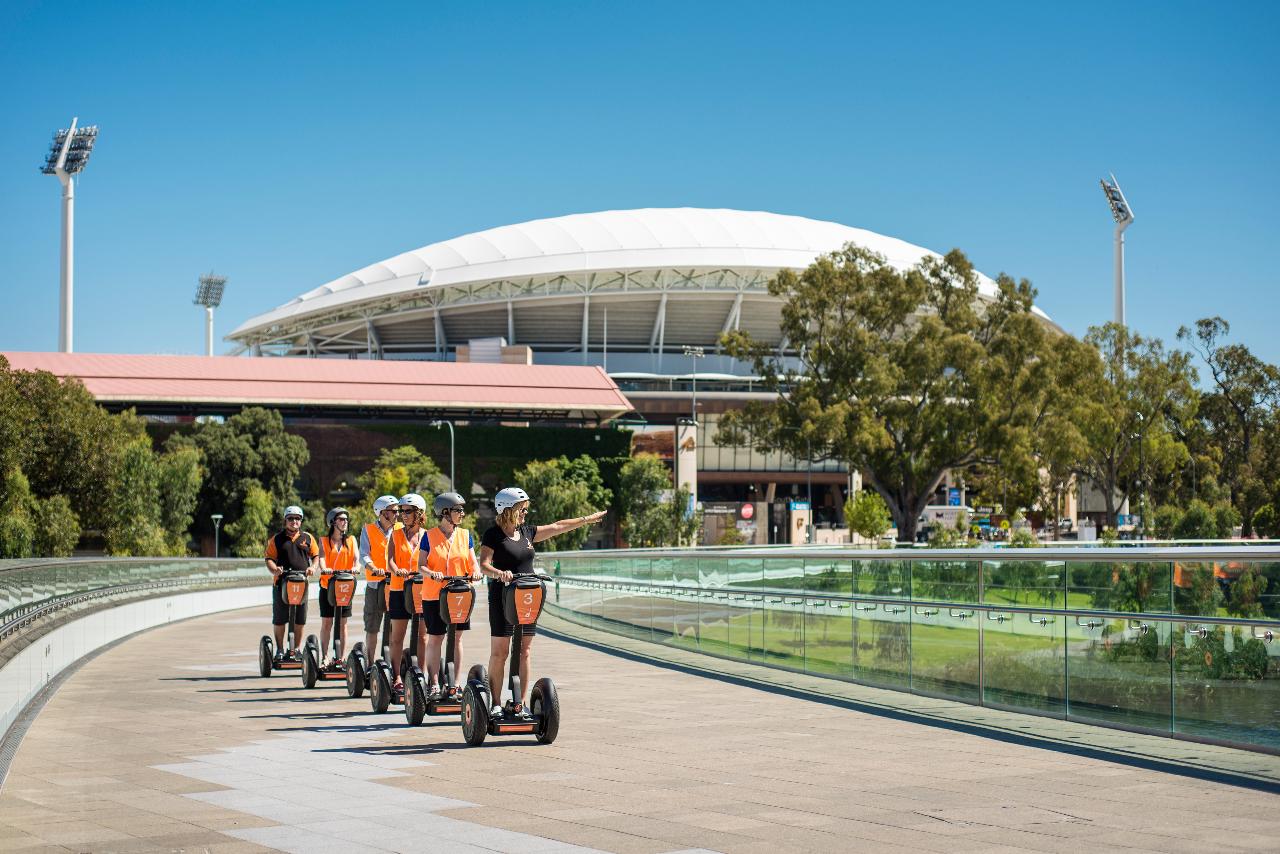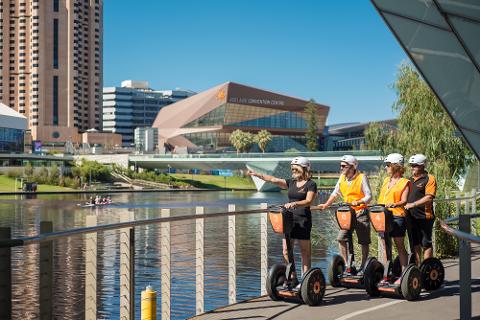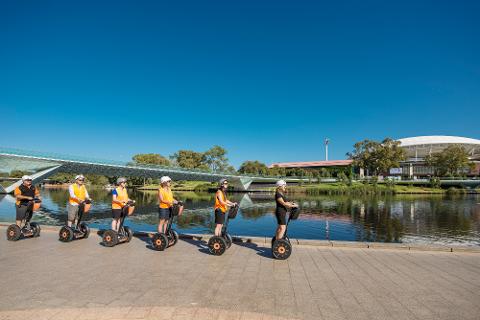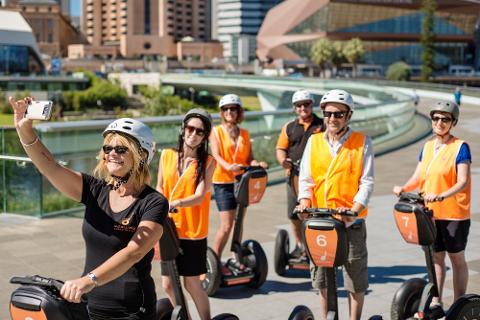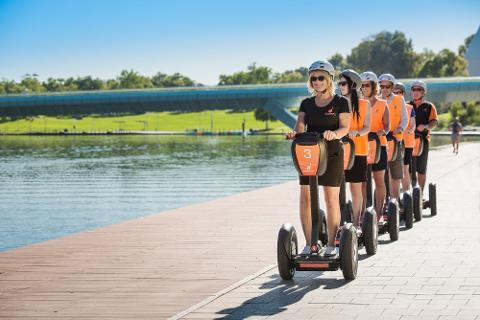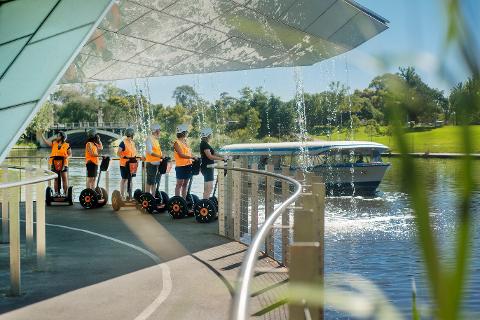 Duration: 60 Minutes (approx.)
Location: Adelaide, South Australia
Product code: RIVER2021
Join the Segway Sensation SA Team and experience all the iconic sights of Adelaide's Riverbank precinct.
Learn your Segway skills in the grassed area adjacent the Par 3, North Adelaide Golf Course, before heading off on a 6km trail taking in major attractions including Adelaide Oval, Adelaide Convention Centre, the Riverbank bridge, Adelaide Festival Centre and Adelaide Zoo.
Tours dates vary and operate at 11.00am, 1.00pm and 3.00pm.
Tours are of approximately one hour duration – excluding training.
Please make sure to wear comfortable clothes and enclosed shoes and we'll take care of the rest.
Please note - weight restrictions apply to all Segway tours. Please see Booking and Tour Terms and Conditions for further information.

Our experienced guides will provide you with full training, then it's off to explore the Riverbank on two wheels. Before you know it you'll be gliding effortlessly through the grapevines!
What's Included
Segway training
60 minute guided tour
Helmet and safety vest
BOOKING POLICY
Booking conditions
All bookings for Segway Sensation SA services are subject to the following conditions. Please read these carefully prior to making a booking.
Wet Weather policy
In the event of rain our tours will still operate. Segways are not affected by rain and according to our customers the puddles and bit of slush actually enhance the experience. We encourage all guests to dress weather-appropriately, and we can also provide complimentary rain ponchos.
In the event that we are not able to provide the activity due to persistent rain, guests will be provided with a credit which they may use for a tour at another date of their choosing.
Cancellation policy
We understand that sometimes – even with the best of intentions – the best laid plans go awry. However from the time that you make your booking with us, we commit your places and hold them for you. This means that should someone else want to go on the tour you are booked on, we may not be able to take that person or people on the tour.
We ask you to please understand that, should you cancel your tour, you may be charged a cancellation fee.
Cancellation fees for our Segway tours are as follows:
– Cancellations received more than 14 days prior to the tour date will receive a full refund of the tour fee.
– Cancellations received between 6 & 14 days prior to tour date will incur a cancellation fee of 50% of full tour cost.
– Cancellations received within 5 days prior to tour date will incur a full cost of tour cancellation fee.
– Please also note that failure to arrive for a scheduled tour will incur a full cost of tour fee and refunds will not be given for any part of a package or tour after the passenger has commenced the tour.
– Please note also that a "cancellation" includes a change to the date of a tour booking that requires the original booking to be cancelled.
Alteration or Cancellation by Us
It is unlikely that we will have to make any changes to your booking after it has been confirmed. However, occasionally some changes have to be made.
In the event that we need to cancel or amend your booking, we will notify you as soon as practicable and offer you the opportunity to cancel and receive a full refund. In all cases our liability is limited to the amount of payment received by us. We cannot accept responsibility, or pay compensation, where we have to cancel a tour due to any unforeseen or unavoidable event beyond our control.
Rider Requirements
Participants must weigh between 45 and 120KG as recommended by the manufacturer of the Segway PT, Segway Inc.
Minimum participant age for a Segway PT Guided Tour is 12 years old. It is the responsibility of the purchaser to ensure they have read and understood the age and weight restrictions
Also:
Riders must wear a helmet. Helmets will be provided
It is recommended riders wear suitable covered toe footwear (e.g. trainers)
Riders must be able to stand for the duration of the guided tour or experience
Rider must be able to stand and walk unassisted
Riders must be able to step on-to and off the base of their machine. The step is approximately 8 inches / 20 cm tall
Riders must not be under the influence of drugs or alcohol
Riders must follow the instructions of their Trainer/Tour Guide at all times. Riders must have adequate vision in order to safely operate a Segway PT, and must wear any prescribed glasses where appropriate
Riders must inform their Trainer/Tour Guide of any vision impairments which may affect their safety before participating in a Segway Guided Tour
Pregnant women or people with back injuries and/or other serious health problems should not participate in a Segway Guided Tours
Riders are not to be under the influence of drugs/alcohol exceeding .05. Participants will be breath tested prior to the event.

Ride Agreement
All participants will be required to sign a Disclaimer Form. The form includes but is not limited to the statements that the participant has read and understood their obligations and participates at their own risk. All participants under the age of 18 MUST be accompanied by a parent or guardian and the parent or guardian must sign the forms.
Right of Refusal
Segway Sensation SA reserve the right to prohibit any participant, prior to commencement, during training or during the tour from participating in our Segway Tours, if they fail to meet the Rider Requirements or do not maintain, at the tour guide's discretion, acceptable behaviour, as specified in these terms and conditions. In such cases, no refunds or alternative dates will be given.